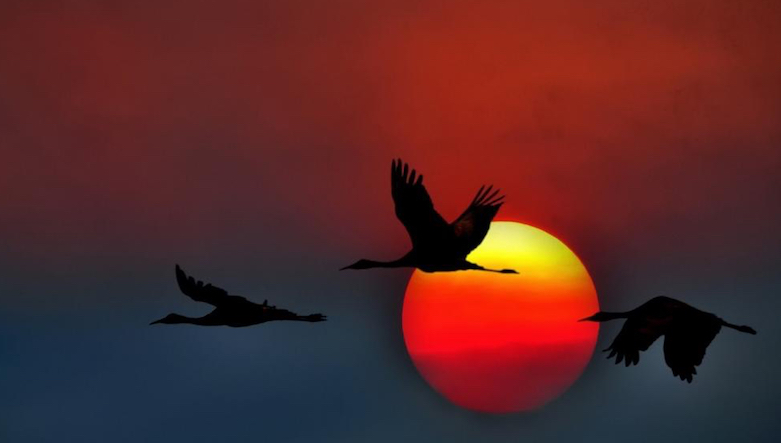 In every moment, we're connected in an intricate web of relationships, whether we're alone or with family, walking in the woods or standing in line at the grocery store.
So why is there so much loneliness and isolation?
Why all the fighting?
What is it we fear?
If you're searching for safe relational spaces, for your tribe, for your people, for a sense of belonging,
imagine what would it be like to leave behind the daily battles of me-versus-you and us-against-them, to stop judging and blaming "those people,"
and cultivate relationships with collaboration and respect, with purposeful connection and rich communication, with adventure and openness to diverse points of view.
The Sandhill Cranes show us the way.
Across many miles and changing seasons, the journey of the Sandhill Cranes is a dance. When Sandhill Cranes migrate, they fly together in a V-formation. There is structure, a form, for their relational world which they instinctively co-create.
The organization of the community is flexible and flowing. The shape of the formation shifts even mid-flight. Individuals trade places. The rhythm of wings and pace of flight fluctuates. Decisions about the path to travel, about when and where to land, feed and rest, are communally made. Sandhill Cranes are responsive to life circumstances while maintaining their connectedness, in any particular moment in time.
The membership of the community organically transforms. With mating seasons and new families. With births and deaths. With the sharing of space with other beings who spend time in the sky, on the lands, and in the waters.
Relationships are collaborations, co-creations. Sandhill Cranes don't pretend to exist in isolation, separate from the ebb and flow of the earth's seasons, disconnected from the web of life. Better-than and less-than thinking does not rule their world. The Cranes aren't forcing themselves or anyone else to be something other than who and what they really are. Relationships are infused with genuineness, with the passion to flourish and thrive, with interactions that nurture balance and the continuance of life.
Each individual in the community is unique and essential. Flying in V-formation in their migratory journeys, every Crane's presence is important. Each individual's point of view offers a unique perspective. Every individual's actions serve a purpose, interweaving to create an effective, beneficial journey for the group.
The voices and language of the Sandhill Cranes are exquisite. Cranes communicate with sounds and movement, with ways of seeing, sensing and sharing that we two-leggeds may not even be able to detect. The exchange of information provides a guiding field of knowledge and experience, taken into consideration by the whole.
Sandhill Cranes are heading somewhere ~ together. There's purpose in relationship. There's shared understanding about who they are and why they're together, about where they are now and what's to come next. They carry a knowing about how to move with flow of the seasons of the earth and the cycles of their lives, individually and collectively.
A great passion for living colors their togetherness as they make their way through the world.
What touches you about the medicines of the Sandhill Cranes?