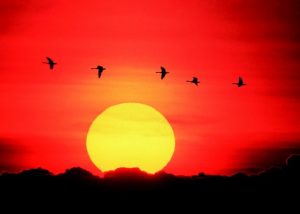 This morning while walking along the arroyo, I heard a beautiful noise. A flock of geese was flying by overhead, a line of winged ones heading north.
Such beauty and grace filled their movement, a collaborative dance of wings through the big blue sky. They were heading somewhere. Together. Guided by their inner knowings. Each individual choosing to fly. A unique structure instinctively created for their community. Each individual's presence essential to the whole. Their songs rang out in the wake of their passage, each one offering information from their particular perspective, communicating, connecting, shaping the choices about which way to go and where and when to land.
These winged ones live with a deeply rooted understanding about why they are together and where they are heading. They understand the purpose of their belonging. It is in their togetherness that they flourish and thrive. There is no force, obligation, or resentment, no evaluations of who is worthy of love or not, that we humans tend to infuse in our relationships (even with ourselves).
The relationships of this flock are interwoven within and far beyond their group. They are not functioning in isolation or with judgments of others' existence. The winged ones are keenly aware of and responsive to the seasons of the earth, the cycles of day and night, the winds, rains, and flow of rivers, the presence of other birds, animals, insects, and plants. They live with a wide-open embrace and intimate connection with the vastly diverse web of life.
We can too.
Come join the Circle of Life  ~ a unique on-line gathering space to cultivate community and deepen connection with yourself, one another, and the web of life. Reclaim your relationship with natural cycles within you and all around. Awaken the power to dream new dreams, let go of blocks and fears, and take actions to bring your dreams to life. Reweave your connection with your own heart and spirit. Live in love with life.