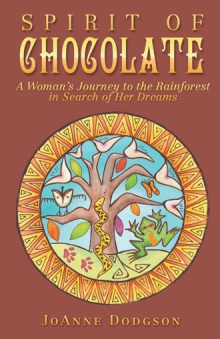 "Spirit of Chocolate is a truly enchanting story…this book is a true gem!" – Sandra Ingerman, author of Soul Retrieval and Walking in Light
"Spirit of Chocolate is a beautiful reminder of the sacredness in all things. From the opening words JoAnne Dodgson pulls you into a sacred journey that calls to your own heart." – Rosalee de la Forêt, author of Alchemy of Herbs
"Spirit of Chocolate is a lucid dream of vibrant color, magic and wisdom. Enter it, taste it and succumb to its alchemy." – James O'Dea, author of The Conscious Activist
♥️

Spirit of Chocolate was inspired over ten years ago. Spending afternoons in a chocolate shop, writing stories and sipping spicy elixirs, ignited my passion for the heart-opening medicines of cacao (ka-KOW). I was compelled to learn more about the ancient traditions surrounding this sacred food. I was enchanted by the cacao tree and the seeds from which chocolate is made.
For years, the vision for this book has been held close in my heart, embraced by friends, and honored in ceremonial ways. The story has been simmering, shifting, deepening over time, and finally is ready to be shared.
Spirit of Chocolate weaves together many passions in my life – my love for stories, for our Mother Earth, for ancestral traditions, for dreaming new dreams, and for personal healing that transforms our lives and our world.
I invite you to join me in this journey through the rainforest. Flourish in the beauty of the tree frogs, the mystery of the jaguar, the passion of Thea's spiritual quest, the wisdom of the Old Woman, and the gifts shared so generously by Ka`Kao.
May Spirit of Chocolate carry you home to your heart and to the awakening of harmony in your life and on our earth.
Order Spirit of Chocolate here! ♥️ I'm so excited to share the story with you.
Manaole U Manaole,
from my heart to the heart of the mother earth to your heart,
JoAnne