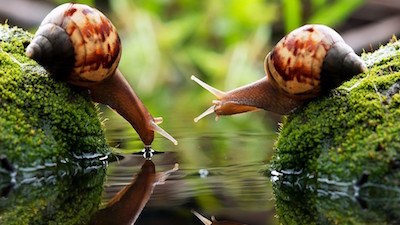 It was the summer of 1994 when I set off on a cross-country quest with a friend. The old van he bought for our travels was rather questionable in how many miles it had left. We headed west from our starting point in Michigan, camping in our tent and hiking around wilderness lands. We were both in graduate school and had an endless list of other "much more important things" we should have been doing. Nevertheless, off we went.
The gifts of that summertime odyssey, so many years ago, still offer me a touchstone for remembering how it feels to live in the flow of natural rhythms, deeply in connection with my own heart and spirit, with the heart and spirit of another, with the heart and spirit of the earth. I learned about slowing down.
The calendar and clock became almost irrelevant to how we went about our days. This was a complete unwinding from my work in a community counseling center, my doctoral studies and dissertation research. The cycles of the sunrises and sunsets, phases of the moon, stars overhead, weather patterns, and animals and plants in our surroundings became primary influences in our lives. Natural rhythms of hunger and thirst, the need for rest, interaction and solitude, the curiosity about what was beyond the next horizon were what structured the flow of our days.
I flourished and thrived, even though we had very little in terms of material wealth or possessions. There was a balance and freedom I unexpectedly discovered. A deep inner peace. A passion for life. The exquisite joy of simple pleasures. An instinctive and healing connection was cultivated with myself, between us, and with the world all around. Simplifying. Quieting. Connecting. Slowing down.
Many years have passed since then, a winding path of changes with jobs, homes, life transitions and passages. Yet what I have held onto from that summertime adventure is the knowing that the natural rhythms of life are far different ~ and far more nourishing ~ than what predominantly exists in our rush-around contemporary society.
We can build a more heart-centered, in-balance, in-connection world, if we choose.
Simplifying. Quieting. Connecting. Slowing down.
Here are some of my thoughts about how we can make these shifts (and I'd love to hear yours…we're in this together!):
Many of us spend our days with clocks literally attached to our bodies. This is a relatively new circumstance in our human existence. What did we do before we had all this gadgetry and got so controlled by and stressed about this thing we call "time?" How did we move through a day, a week, a season in the web of relationships with our families, communities, and environments? What were we paying attention to, listening to, and communicating with for guidance about how to go about living our lives? We can remember and reclaim these ancestral ways. This is our human heritage.
Recognize the beauty and value of who you are and what you do ~ not measured by how many hours you work or the number on the bathroom scale or the years you have lived or the calories consumed or the dollars in your bank account.
Reduce screen-time and soak up more natural light. Sunlight is food, essential for our health and well-being physically and emotionally. Reconnect with the cycles of day and night, the moon and stars, our Milky Way Galaxy. We've lost touch with how our bodies and minds feel and respond to the movement of the planetary energies we are immersed in and influenced by. We seem to be the only species on the earth working so hard to be something other than who and what we naturally are.
Explore ways to decrease the roar of human-made artificial sounds. The natural soundscapes of our earth are becoming extinct. What is one thing you can do differently today to reduce noise pollution? Are bells and whistles really essential for phone, email and text messages? Do car horns need to honk just to lock the doors? Share a moment of quiet with a friend.
Awaken your connection and sense-awareness of your natural surroundings, any moment during everyday life. Stuck in a cubicle? Step outside during your break to breath the air, see the sky, feel the winds, sit beside a flowerbed or under a tree. Earth is our home planet. We are immersed in, a part of, and always in relationship with this natural field. Listen to the birds. Lean into the soothing sounds of a creek or the ocean tides. Watch the movement of the clouds and colors of the sky. Take off your shoes and let your feet settle into the soil. Our senses connect us, gathering and sharing information. These are sacred gifts much too precious to be silenced.
We are losing the art of conversation that extends beyond a sound byte, thumbs-up, and computerized emoticons. We are losing the art of looking into one another's eyes. We can bring back these simple and sacred arts of living, reweaving our connectedness, if we choose.