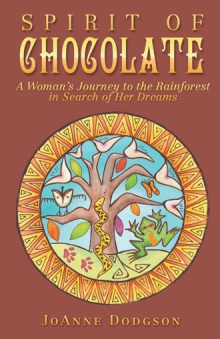 Please join me in the Chocolate Book Give-Away!
For $5 to cover the shipping costs, you'll receive a bundle of 5 books to share.

When you travel by train, plane, car, bicycle or bus, leave a copy of Spirit of Chocolate somewhere along the way. Leave in your local coffee shop. At the gas station pump. Tuck inside your neighbor's mailbox. Place in the waiting room at the doctor's office. Give to caretakers of nature centers. Share with teachers and healing practitioners. Bank Tellers. Park Rangers. Cashiers at the grocery store. Follow your inspirations!
Chocolate is heart-opening medicine. And stories are meant to be shared.
For online payment, click on this button:
If you prefer to pay by check, please send to: JoAnne Dodgson PO Box 323  Dixon, NM 87527
Be sure to include your mailing address to receive your bundle of 5 books.
Thank you for sharing the dream for weaving a world filled with harmony and love. ♥️